TellerScan® TS240
TellerScan® TS240
The TellerScan TS240 teller capture scanner is Digital Check's workhorse check scanner for the teller window or high-volume remote deposit capture environments. Powerful enough to handle large stacks of documents, and affordable enough for small businesses, the TS240 remains one of our most popular and versatile check scanner models of all time.
It is also the world's first and best-selling ultraviolet (UV) check scanner, with tens of thousands of units installed globally. UV models are available for international markets in several speeds.
The TS240 can be converted into a network-ready scanner with the help of the SecureLink module, a hockey puck-sized device with onboard intelligence and Ethernet compatibility.
If you're looking for something beyond a single feed check scanner, the TellerScan TS240 provides a great entry point into the realm of multi-feed, high-speed check scanning. With the capacity to handle stacks of up to 100 checks and documents, it saves time and improves the user experience.
As our longest-serving multi-feed scanner, the TS240 focuses on a simple, durable design that delivers extreme reliability and a superb maintenance record. It was designed for easy operation, is simple to maintain, and is compatible with a series of modular plug-ins for card reading and receipt printing.
Over the years, we've increased the throughput of the TS240, added easy-to-clean polymer rollers, and developed a package of image-capture and enhancement software to produce the clearest images possible. The TS240 is the scanner of choice for many of the largest banks around the world.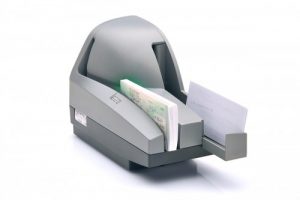 Features
ALL FEATURES
• Available in 50, 75, or 100 document per minute models
• Uses Best-Read® recognition technology for clearest images
• Compatible with Clear by Digital Check® image enhancement software
• Polymer rollers for more durability and better feeding
• Optional single-line Inkjet endorser
• Available with optional UV scanning capability
• Optional thermal transaction printer available
• Compatible with Windows 8.x/10
• Compatible with Mac OSX and some Linux distributions
NETWORK-READY IN A SNAP
The TS240 is a standard USB-connected scanner by default, but the SecureLink module makes it compatible with almost any virtual teller environment, including those based on Citrix and VMWare. SecureLink can be installed with new scanners, and can also be used on your existing TellerScan devices already installed in the field. Click the link to find out more.
GUARANTEE THE BEST IMAGE
Capturing a quality image is the top concern in electronic check clearing, and we've enhanced the TellerScan series several times to help you get the best image possible. Digital Check's Best Read® system captures four versions of each item and intelligently selects the best one. Our Special Document Handling is a powerful tool that provides the user the ability to eliminate virtually every known image exception, producing the highest CAR/LAR. And Clear by Digital Check® allows you to repair the most difficult to image items like money orders with a simple click-and-drag process.
THE WORLD'S LEADING UV SCANNER
The TellerScan TS240-UV was our first check scanner to feature a camera for capturing UV security features. It can capture both UV and optical light in one pass, without reducing its rated speed. Banks all over the world have made the TS240-UV their scanner of choice for reading UV on checks, money orders, and all other secure documents.
MODULAR ADD-ONS
ReceiptNOW
ReceiptNOW is a thermal printer that docks underneath the TS240 and prints receipts for each transaction. The same ReceiptNOW model used for SmartSource Professional scanners now fits the TellerScan TS240 as well!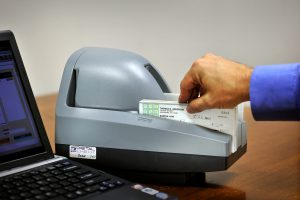 Technical Specifications
UNIT SIZE
• Height: 7.5″ (19.05cm)
• Width: 5.10″ (28.19cm)
• Length: 11.10″ (12.95cm)
• Weight: 5.20 lbs. (2.4kg)
SCANNER SPEED
• Three different speeds available:
• Up to 50, 75, or 100 documents per minute

DIGITAL CHECK API REQUIREMENTS
• DCC API 12.05 or newer
SUPPORTED OPERATING SYSTEMS
• Windows 10® (32 / 64 bit)
• Windows 8.x® (32 / 64 bit)
• Mac OS X® (Contact Digital Check Technical Support for specific versions supported)
• Linux OS (Contact Digital Check Technical Support for specific versions supported)
Resources
TELLERSCAN® TS240 TRAINING VIDEOS
DOWNLOADS, PDFS, AND LINKS